Household Safety Ladder
Household Aluminium Safety Ladder
(150kg Duty Rating)

Suitable for residential, retail, office on light duties, minor drilling and occasional accessing height. This Aluminium Ladder comes with Front Handle Support,Anti-Slip Top Step Platform, Duty rating 150kg. Lightweight, Good for cleaning top area and change bulbs. BizSafe Star OHSAS 18001 EN131 Certified
It is a need for every home/business to have a basic reliable ladder to reach heights safely


Safer Ladder Legs for Safety

As compared to other brands of ladders which are usually OEM rounded plastic legs and can be slippery and movement when in use, Our Ladder legs' shoes are made of durable heavy-duty rubber to prevent any slip/movement on the ladder. Our Ladder leg shoes are designed at an angle to have a full grip to the floor to make it safe when you are on top of the ladder.


Safer Platform Step for Safety

This is the safest platform for all household ladder in the world as it has the most friction anti-slip surface to prevent any slip on the platform safest. You can do a match with your current,friend's or relative ladder. Our ladder is the clear winner.


Stronger Single Rivet hinge for more stablity

The hinge is a single strong rivet point hinge which makes the ladder more stable and less shaky on the top. This give a great peace of mind on safety. As for multi-rivets hinge, they tend to be unstable and shaky after a few times of usage due to more joints. That is the reason why our household safety ladder can go up to 10 steps in the market which can reach upto 4 meters height for average height people. No other household ladder brands can go up to 10 step till now.


View All Available Sizes, Weight and Pricing

4-step:$54
5-step:$63, (Rent @ $18 onwards)
6-step:$72, (Rent @ $18 onwards)
7-step:$84
8-step:$96
9-step:$118
10-step:$129


A-Frame Ladder
A-Frame Aluminium Ladder
(Medium Duty, 120kg Duty Rating)

Lightweight A-Type Aluminium Ladder for Retail, Home, Business, Contractors or Medium-Usage Purposes such as goods fetching, maintenance, minor wall drilling, bulb change, cleaning for indoor and outdoor environment. 120kg Duty Rating.OHSAS 18001, EN131-1, EN131-2, BizSafe Certified. Made in Singapore
View All Available Sizes, Weight and Pricing

4-step:$48
5-step:$58, (Rent @ $18 onwards)
6-step:$69
7-step:$80
8-step:$91
9-step:$102
10-step:$113
11-step:$124
12-step:$135


A-Frame Aluminium Ladder
(Heavy Duty, 150kg Duty Rating)

Durable A-Type Aluminium Ladder for Warehouse, Contractors, Industrial, Construction, Business or Heavy-Usage Purposes such as Renovation, Frequent Goods Fetching, frequent wall drilling .150kg Duty Rating.OHSAS 18001, EN131-1, EN131-2, BizSafe Certified. Made in Singapore
View All Available Sizes, Weight and Pricing

4-step:$49
5-step:$59, (Rent @ $18 onwards)
6-step:$70
7-step:$81
8-step:$92
9-step:$103
10-step:$114
11-step:$125
12-step:$136
13-step:$221
14-step:$234
15-step:$247
16-step:$301
17-step:$315
18-step:$329
19-step:$371
20-step:$385
21-step:$399
22-step:$413
23-step:$427
24-step:$441
A-Frame Fibreglass Ladder
(Heavy Duty, 150kg Duty Rating)

Very Durable A-Type Fibreglass Ladder for Construction/Frequent/Harsh Condition Purposes such as Shipyard, Metal works, Electrical Fittings, Worksite, Oil Rigs. 150kg Duty Rating.OHSAS 18001, EN131-1, EN131-2, BizSafe Certified. Made in Singapore. Rent @ $28 onwards
View All Available Sizes, Weight and Pricing
A-Frame Safety Ladder (MOM Best Practiced Guidelines)
A-Frame Safety Aluminium Ladder
(Heavy Duty, 150kg Duty Rating)

Durable A-Type Aluminium Ladder with top 3 steps disabled for safety in Warehouse, Industrial, Construction, Business or Heavy-Usage Purposes such as Renovation, Frequent Goods Fetching, frequent wall drilling .150kg Duty Rating.OHSAS 18001, EN131-1, EN131-2, BizSafe Certified. Made in Singapore
View All Available Sizes, Weight and Pricing

3-step:$100 (Rent @ $28 onwards)
4-step:$111
5-step:$122
6-step:$133
7-step:$144
8-step:$155
9-step:$166
10-step:$251
11-step:$284
12-step:$277
13-step:$331
14-step:$345
15-step:$359
A-Frame Safety Fibreglass Ladder
(Heavy Duty, 150kg Duty Rating)

Very Durable A-Type Fibreglass Ladder with top 3 steps disabled for safety in Construction/Frequent/Harsh Condition Purposes such as Shipyard, Metal works, Electrical Fittings, Worksite, Oil Rigs. 150kg Duty Rating.OHSAS 18001, EN131-1, EN131-2, BizSafe Certified. Made in Singapore
View All Available Sizes, Weight and Pricing
A-Type Platform Ladder (PSB Tested)
A-Type Platform Aluminium Ladder
(Heavy Duty, 200kg Duty Rating)

Suitable for 1 man operation to save labour cost which is allowed and ceritified by PSB on this A-Type Platform Aluminum Ladder with Safety Chain, 100cm height from Platform to Hand Rail. For Construction, Rugged Usage. Very Durable. BS EN131 Certified and PSB Tested. Made in Singapore
View All Available Sizes, Weight and Pricing

Price range:$368 to $1798, , Rent @ $38 onwards
A-Type Platform Fibreglass Ladder
(Heavy Duty, 200kg Duty Rating)

Suitable for 1 man operation to save labour cost which is allowed and ceritified by PSB on this A-Type Platform Fibreglass Ladder with Safety Chain, 100cm height from Platform to Hand Rail. For Construction, Rugged Usage. Very Durable. BS EN131 Certified and PSB Tested. Made in Singapore
View All Available Sizes, Weight and Pricing
Fireman Ladder
Fireman Aluminium Ladder
(Heavy Duty, 150kg Duty Rating)

Fireman Aluminium Ladder for Landed Residential, Building Managment, Project or Maintainence Purposes such as roof accessing, construction, building projects, manhole accessing. 150kg Duty Rating.OHSAS 18001, EN131-1, EN131-2, BizSafe Certified. Made in Singapore
View All Available Sizes, Weight and Pricing

Price range:$89-$665
Fireman Fibreglass Ladder
(Heavy Duty, 150kg Duty Rating)

Fireman Fibreglass Ladder for Landed Residential, Building Managment, Project or Maintainence Purposes such as roof accessing, construction, building projects, manhole accessing. 150kg Duty Rating.OHSAS 18001, EN131-1, EN131-2, BizSafe Certified. Made in Singapore
View All Available Sizes, Weight and Pricing
Multi-Purpose Ladder
Multi-Purpose Aluminium Ladder
(150kg Duty Rating)

Multi-Folding Ladder.Compact Storage, Lightweight with different modes such as standing, leaning, bench. Suitable for portable usage such as photography, maintenance on staircase due to uneven ground. OHSAS 18001, EN131-1, BizSafe Certified
View All Available Sizes, Weight and Pricing

8-step:$197
12-step:$259
16-step:$299
20-step:$359, (Rent @ $38 onwards)
2-Way Combination Aluminium Ladder
(100kg Duty Rating)

A-Frame or Fireman Ladder Convertible. Compact Storage, Lightweight with different modes such as standing and leaning. Suitable for portable usage such as photography, maintenance checks and roof access. OHSAS 18001, EN131-1, BizSafe Certified
View All Available Sizes, Weight and Pricing

5-9 step:$133
6-11 step:$156
7-13 step:$183
8-15 step:$208
Office Steel Ladder
Office Steel Ladder
(150kg Duty Rating)

Suitable for Office/Retail usage. Wide and Anti-Slip surface ladder step and Top handle to enhance Safety when fetching files/goods. 150kg Duty Rating. Easy Storage
View All Available Sizes, Weight and Pricing

2-step:$39
3-step:$49
4-step:$69
5-step:$89


Working Platform Ladder
Working Platform Ladder
(150kg Duty Rating)

For contractors for painting, plastering, renovation and construction work. Platform width ranges from 30cm to 45cm. Foldable to flat for ease of storage , Rent @ $28 onwards
View All Available Sizes, Weight and Pricing
Not Sure? Use our Ladder Finder
Not Sure How High is my ceiling?
Take a picture of your highest ceiling portion with a door and a stool near to it. Watsapp to us at 9759-9095 and we will tell you which ladder you need.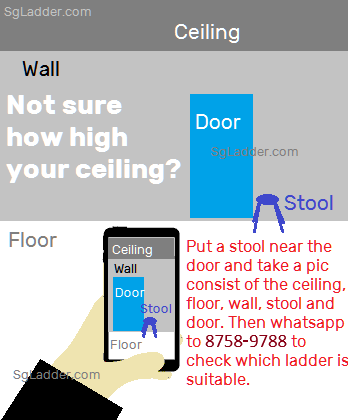 How to Buy?
You can pay cash On Delivery for items below $90 sales
You may pay upon arrival of goods for sales item less than S$90. This means if you order a 5-step ladder via phone ( 9_759_9095 / 9_008_8801 ), you only need to pay cash upon arrival of goods.

For sales more than $90 and not more than $2000, you are required to make a payment via bank transfer(POSB/DBS) or PayNow to 9008-8801(Xeesa).

For sales more than $2000, it is required to make a downpayment of 50% of the sales amount via bank transfer(POSB/DBS) or PayNow to 9008-8801(Xeesa). The leftover amount will be paid via bank transfer(POSB/DBS) or PayNow to 9008-8801(Xeesa) within 7 days once the delivery is made.

Delivery Order Conditions
Online Order takes upto 3 working day to process. If your order is urgent, please call us directly for alternative arrangements. All Delivery are Free(FOC) and will be made on Mon-Fri 6:30pm to 9:30pm, Sat-Sun 10am to 10pm.

Corporate Purchasing/Quotation
Purchasers from Corporations are welcome. You may add to cart via My shopping cart and check out by selecting action to Send me this quotation via email to get an official quotation emailed to you which suit to your corporate procedures. Additional and attractive Discounts are given to bulk purchase too.


About SgLadder.com?
It is the first and only ladder showroom in Singapore to let customers to try our ladders. And we are the first and the only ladder provider in the world which have the online calculator to calculate the right size ladder for customers need. This ladder showroom and provider is owned by Xeesa Services which provide rental and sale of ladders to homes, commercial and construction nationwide in Singapore. Our products sold here are protected by lemon law which give consumer 6 months warranty against defects.

Customers can test our ladders at our showroom. Please try it with care and caution at the showroom as it is opened to public to try. Xeesa Services will not be liable for any damage/injury/mishap/lost happen to anyone in the showroom premises.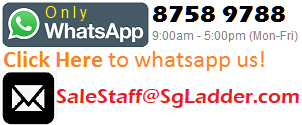 Showroom Location: 11 Sin Ming Rd #B3-09 Unit 7, Thomson V Two.
Map: View Google Map
Opening hours: 9am - 8pm Daily including Public Holidays.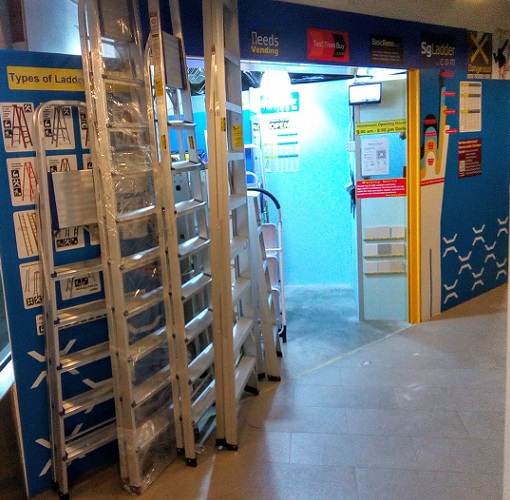 How to get there?
Bus : 52, 130, 162, 163, 165, 166, 167, 410, 855, 980
MRT Station : Marymount MRT Stn(Exit A. Walk 10mins along Marymount Rd and Shunfu Rd or you can take bus 410G)
Drive :
From West : PIE-> Lornie Rd -> Upp Thomson Rd -> Sin Ming Rd
From East : Bartley Rd -> Bradell Rd -> Upp Thomson Rd -> Sin Ming Rd
From South East : PIE -> Thomson Rd -> Upp Thomson Rd -> Sin Ming Rd
From South : CTE -> Braddell Rd -> Upp Thomson Rd -> Sin Ming Rd
From North : SLE -> Upp Thomson Rd -> Sin Ming Rd
From NorthEast : CTE -> Braddell Rd -> Upp Thomson Rd -> Sin Ming Rd
Basement Parking : Thomson V2 @ $1.50 per hour (Max Height: 2.1M). Grace Period Free Parking for 10 mins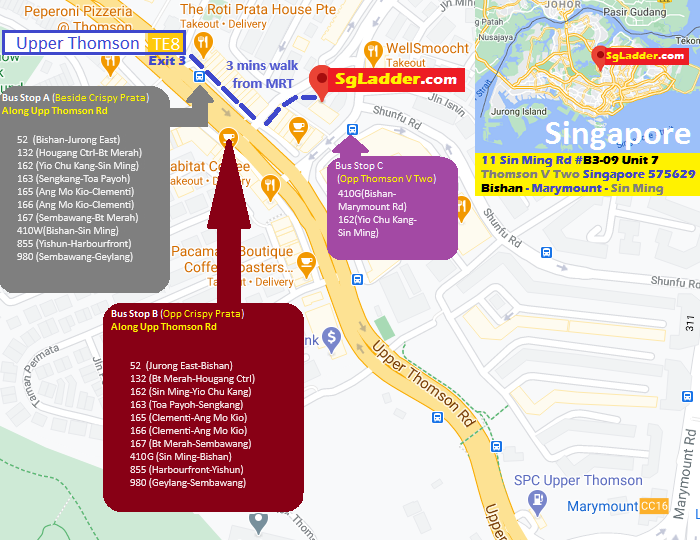 Other Links